Once installed, PageSpy is added to the context menu of Internet Explorer. You can then right click any web page and analyze its contents in PageSpy. PageSpy will save you time right from your first mouse click: the program displays the page source and navigates directly to the HTML element you clicked.
From here, many useful functions are available. PageSpy can show you the DOM based source as well as the original HTML source. It can also analyze any forms within the web page and show you all the information you need, including the form method, action and all input variables. PageSpy can download external files referenced within the web pages.
It can also execute JavaScript code and run regular expressions within the loaded web page. All in all, PageSpy is packed with useful features that will make your life as a web developer that much easier!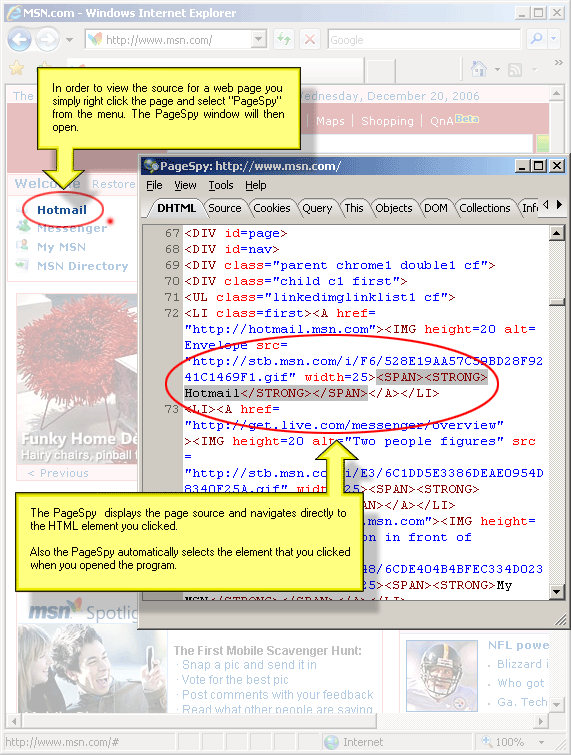 Let's summarize the above. If you have faced such problem – do not close hidden windows that do not activate, and do not kill those applications with Task Manager. You don't have to lose your data! Also don't waste your time trying to reinstall those applications over and over. Instead, simply run LostWindows and let it return those stubborn windows back to your desktop in a second!
PageSpy is quick and easy to install. Once you have used PageSpy we believe you will wonder how you ever managed without it. However, should you want to remove PageSpy from your machine, it can be completely uninstalled without leaving any residual files. All versions of PageSpy are guaranteed to be 100% free of viruses and spyware. It is quick and doesn·t hang your browser.
Key Features:
Displays original HTML source and DOM based source
Navigates to HTML element where web page was clicked
Shows non-english text in source code
Form analyzer
Query analyzer
Cookie analyzer
Iframes analyzer
Frameset analyzer
CSS viewer
DOM Tree
Variables/Objects viewer
Runs any JavaScript within loaded web page
Regular expression tester
Opens external files including flash files